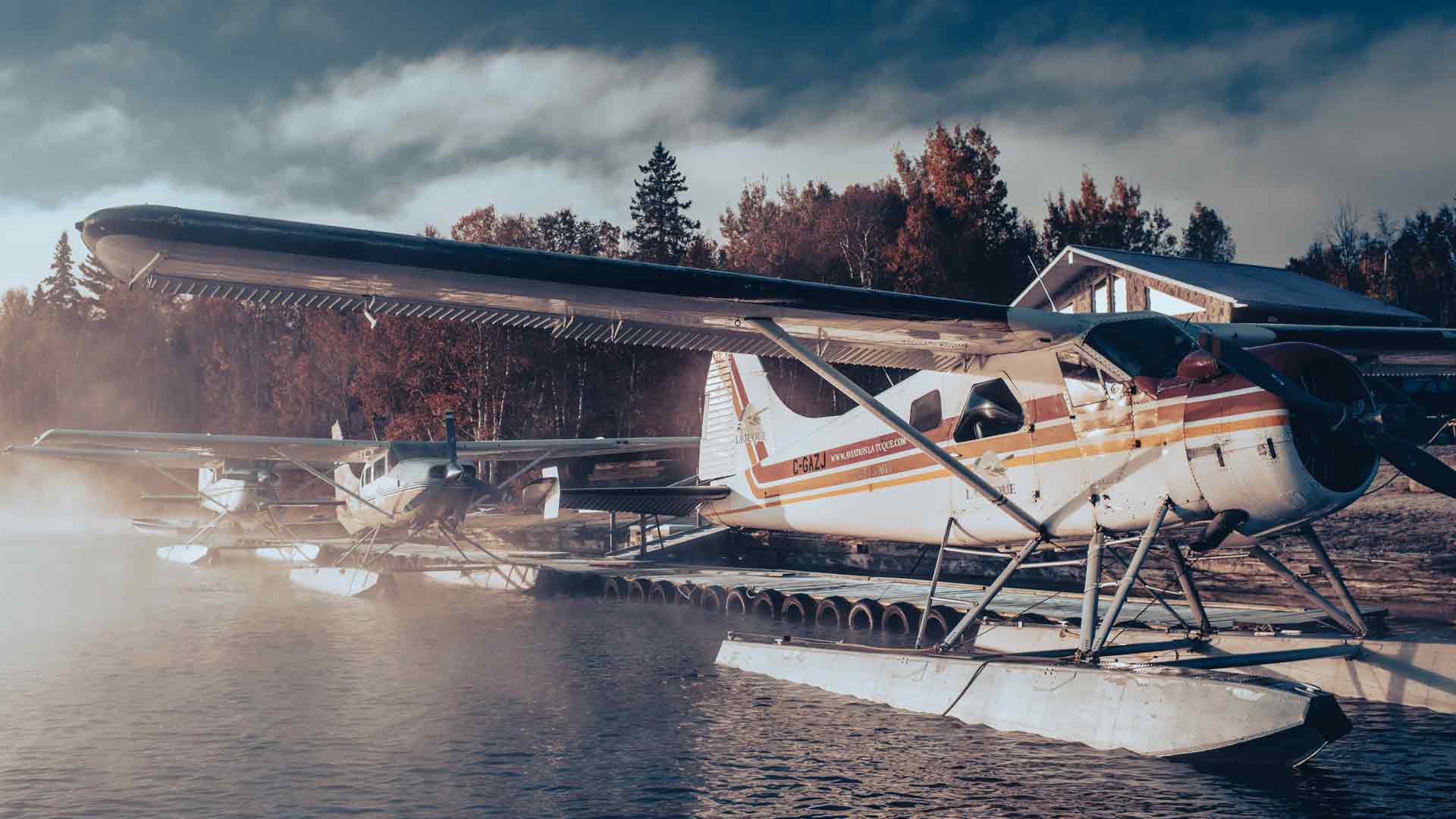 About us
The beginnings of Hydravion Québec are not recent. Here are the different elements that have marked the history of our beautiful company and have shaped it into what it is today!
1947
Inauguration of the Lac-à-Beauce hydrobase
The Lac-à-Beauce hydrobase in La Tuque was officially inaugurated on December 12, 1947, making it one of the oldest bases in Eastern Canada. In its own way, the hydrobase at Lac-à-Beauce has contributed to the development of Quebec by assisting in the location of forest fires from seaplanes, providing medical evacuations in emergency cases, and conducting explorations for the construction of hydroelectric dams.
Elle a, par ailleurs, participé à l'essor touristique de la Mauricie grâce au transport de chasseurs et de pêcheurs avant que les voies de communication routières ne desservent la plupart des sites réservés à ces activités. Over time, the hydrobase has shifted towards the tourism industry, aiming to introduce visitors from near and far to the beauty of this splendid region.
2012
The birth of Aviation La Tuque.
C'est en avril 2012 que Rémi Thibodeau devient nouveau propriétaire de l'hydrobase. An experienced bush pilot and entrepreneurial spirit, Rémi acquired the location with the aim of bringing a breath of fresh air to the industry. And so, Air St-Maurice changed its name to Aviation La Tuque. Since then, the clientele has been constantly growing, and the place continues to attract attention.
Hundreds of tourists, fishermen, and hunters use the seaplane transport services to reach their desired destinations, departing from the Lac-à-Beauce hydrobase, which is now the only one in the La Tuque region.
In order to better serve its growing clientele, Aviation La Tuque is adding several seaplanes to its fleet, including two DHC-2 Beavers and one Cessna 206.
Puis, dans la poursuite de cette expansion, une nouvelle base est exploitée en 2020 au Lac Sébastien, dans la région du Saguenay, sous le nom de Safari Brousse Saguenay. This expansion allows the company to extend its operations throughout Quebec, offering the same services as at Lac-à-Beauce.
2017
Setting up at Lac St-Augustin, Quebec.
En 2017, Aviation La Tuque s'installe au Lac Saint-Augustin, à quelques pas de la ville de Québec, afin de faire profiter les touristes d'une nouvelle option pour les départs. Located just 20 minutes from the famous Old Quebec, this base provides a connection to the northern regions of Quebec starting from the city! All our aircraft can be chartered from this hydrobase.

2022
Birth of Hydravion Québec.
It is officially born in 2022. Hydravion Québec, bringing together. all the companies under a single and unified identity.. Operating a fleet of 7 seaplanes and 3 bases, Hydravion Québec becomes a leader in the bush flying industry in Eastern Canada, excelling in both its transport and sightseeing services, as well as the quality of its training programs.
In addition to providing people with an extraordinary experience, Hydravion Québec contributes significantly to the local economy. Restaurants, inns, tourist attractions, and numerous businesses are sought after by tourists who come to enjoy a seaplane flight to admire the vastness of the Quebec landscape.
Despite the rapid expansion in recent years, Rémi Thibodeau and his team manage to maintain this family-oriented, passionate, and enthusiastic spirit that leaves no one indifferent.